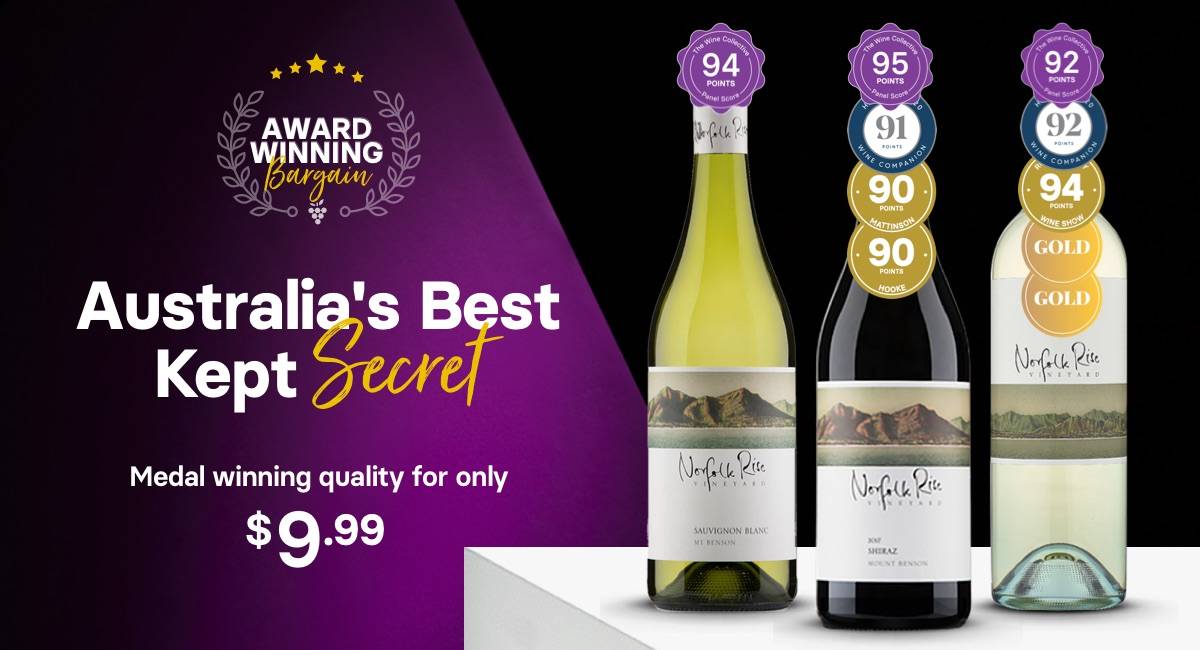 Norfolk Rise - Australia's Best Kept Wine Secret?
There's no question about it, Norfolk Rise is one of the most over-performing wineries in the country. Look only at the Pinot Grigio below, which is simply overloaded with gold medals. Or the Shiraz, which in just a few years, has picked up so much silverware. Now, these wines are only $9.99? That's unbeatable value drinking!
Special prices end Sunday August 18th.
2018 Norfolk Rise Pinot Grigio
Pear, apple, medium-bodied, crisp acidity. Long finish

Sam Taylor
RRP: $19.00 per bottle
36% OFF
$11.99 (buy 6 or more)
$12.99 per single bottle
Savoury, smoky, black fruits. Incredible Value

Sarah Linhart
RRP: $19.00 per bottle
36% OFF
$11.99 (buy 6 or more)
$12.99 per single bottle
2019 Norfolk Rise Sauvignon Blanc
Delicate aromas of elderflower on the nose with crisp, ripe tropical fruits on the palate.

Sarah Linhart
RRP: $19.00 per bottle
36% OFF
$11.99 (buy 6 or more)
$12.99 per single bottle
2018 Norfolk Rise Pinot Grigio
Pear, apple, medium-bodied, crisp acidity. Long finish

Sam Taylor
RRP: $19.00 per bottle
36% OFF
$11.99 (buy 6 or more)
$12.99 per single bottle
Savoury, smoky, black fruits. Incredible Value

Sarah Linhart
RRP: $19.00 per bottle
36% OFF
$11.99 (buy 6 or more)
$12.99 per single bottle
2019 Norfolk Rise Sauvignon Blanc
Delicate aromas of elderflower on the nose with crisp, ripe tropical fruits on the palate.

Sarah Linhart
RRP: $19.00 per bottle
36% OFF
$11.99 (buy 6 or more)
$12.99 per single bottle