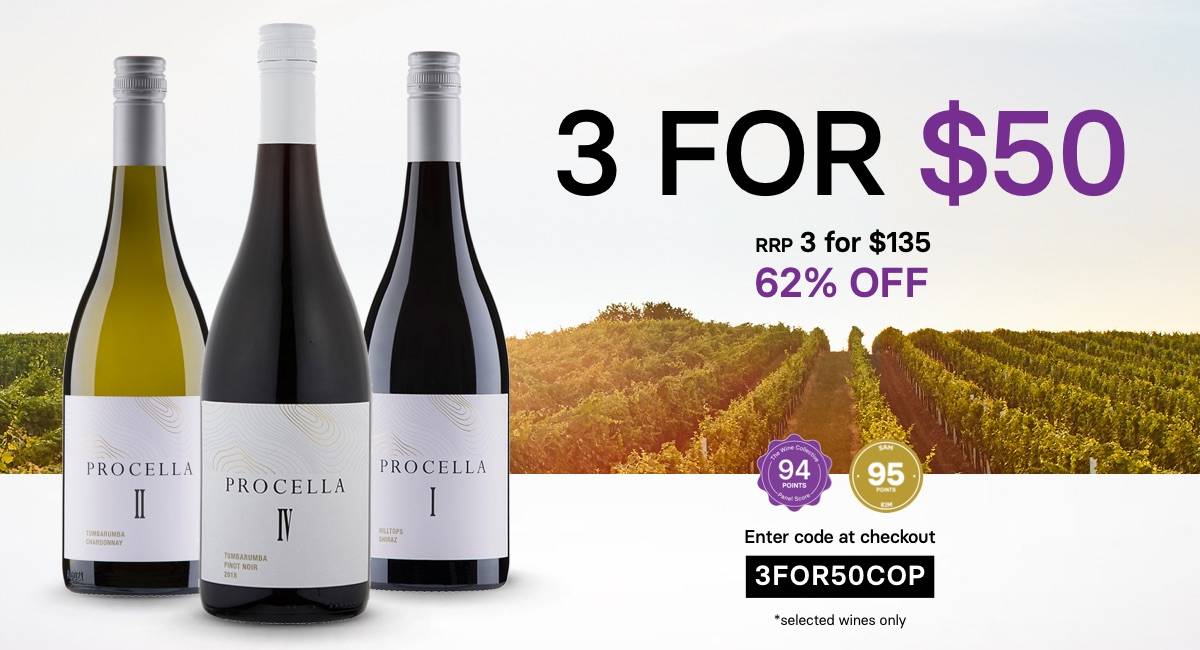 Cool-climate wines at their best.
An off-shoot label by the multi-award winning team at Moppity Vineyards, the Porcella range are premium cool-climate wines. Normally, $45.00 per bottle, they can be yours for only $19.99. Premium quality for under $20 - how can you say no?
Hurry, ends midnight Sunday 30th June*.
2018 Coppabella Procella IV Pinot Noir
Bargain Pinot is super hard to find but we have found a ripper here from one of our favourite wineries. Procella is the Tumbarumba arm of giant-killing Hilltops winery Moppity and here we see a very fresh, faintly herbal Pinot Noir that shows the grace and energy of ultra-cool climate Pinot. Bright, perfumed and silky it has everything you are looking for in a bargain package.

Angus Hughson
55% off RRP
$19.99 (buy 6 or more)
$20.66 per bottle
2018 Coppabella Procella IV Chardonnay
Wonderful balance, peach & melon, great length, minerality & complexity

Johan Axlund
55% off RRP
$19.99 (buy 6 or more)
$20.66 per bottle
2017 Coppabella Procella I Shiraz
Hilltops-y and very juicy. Good.

Andrew Graham - ozwinereview.com
55% off RRP
$19.99 (buy 6 or more)
$20.66 per bottle
2018 Coppabella Procella IV Pinot Noir
Bargain Pinot is super hard to find but we have found a ripper here from one of our favourite wineries. Procella is the Tumbarumba arm of giant-killing Hilltops winery Moppity and here we see a very fresh, faintly herbal Pinot Noir that shows the grace and energy of ultra-cool climate Pinot. Bright, perfumed and silky it has everything you are looking for in a bargain package.

Angus Hughson
55% off RRP
$19.99 (buy 6 or more)
$20.66 per bottle
2018 Coppabella Procella IV Chardonnay
Wonderful balance, peach & melon, great length, minerality & complexity

Johan Axlund
55% off RRP
$19.99 (buy 6 or more)
$20.66 per bottle
2017 Coppabella Procella I Shiraz
Hilltops-y and very juicy. Good.

Andrew Graham - ozwinereview.com
55% off RRP
$19.99 (buy 6 or more)
$20.66 per bottle